Trends and opportunities for energy retailers in a net zero market
Why energy retailers need to change the way they operate – and how to do it.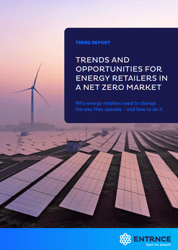 In the energy retail market, it seems the only constant is change. But with change, comes opportunity for energy retailers.
Alongside the short-term turbulence, several long-term macro trends are set to rapidly transform the sector, largely driven by the shift to net zero emissions.

Smart energy retailers will stay ahead of these trends to seize huge commercial opportunities.
You should read this trend report if you want to know..
How the "4D revolution" reshapes the energy market, and how that affects retailers
How you can meet the growing business demand for transparency
What upcoming green policy changes mean for you, and how to get ahead
How to seize the commercial opportunities of a changing energy market.
Trend Report
Yes, I want my copy
18 pages | 20 minutes reading
Entrnce is committed to protecting and respecting your privacy. From time to time, we would like to contact you about our products and services, if you consent. In order to provide you the content requested, we need to store and process your personal data.
Discover the possibilities of half-hourly matching
Learn what the ENTRNCE B2B Matcher can do for your business during a personal demonstration.